Black Hat USA 2011
//extra
Caesars Palace Las Vegas, NV • July 30 - August 4
//

special events
---
Black Hat Arsenal
// August 3-4, 10:00-18:00 // Caesars Palace: Fourth Floor Promenade
Do you have a great tool or demo that you have been dying to bring to the attention of the Black Hat community
This year Black Hat is pleased to offer a Tool/Demo area for independent researchers and the open source community that will allow you to showcase your work...more info »
---
Black Hat Circuit
// August 3, 19:00-22:00 // Caesars Palace: Third Floor
When the annual Black Hat reception starts to wind down and you're looking for a place to go, don't fret, because the Black Hat Circuit will just be getting warmed up. The Black Hat Circuit will feature themed rooms from key exhibitors; offering conference delegates a venue to continue their technology conversations and networking activities. Participating Circuit sponsors have gone the extra mile in providing food and drinks, along with opportunities to win some fabulous prizes. Opportunities to win prizes take place directly following the Gala Reception.
---
Black Hat Store
// August 2 - 15:00-21:00, August 3-4, 08:00-18:00 // Caesars Palace: Emperor's Ballroom
Get your Black Hat branded merchandise - t-shirts, jackets, mugs, barware, lab coats and more! - Please note: No cash will be accepted. Purchases can be made with any major credit or debit card.
---
BreakPoint Books
// July 31 - August 4, 08:00-18:00 // Caesars Palace: FOURTH FLOOR, OTHO
Come by the official bookstore and browse the latest titles in security.
Mark Russinovich and his book "Zero Day: A Novel" Aug 4 // 15:00
---
Planning on attending DEF CON this year but don't want to head to the Rio and potentially miss out at Black Hat? As a registered Black Hat USA 2011 attendee you can now pre-purchase your DEF CON pass and save $50 off of the $150 DEC CON registration price.
In order to pre-register for DEF CON you must meet the following terms & conditions:
Be a registered and paid Black Hat USA Briefings and Training delegate (this excludes sponsor passes, exhibit booth staff & media).
Payment in full.
Only one DEF CON registration per Black Hat delegate. No additional badges will be available for purchase either through the registration system or onsite. Additional badges must be purchased at DEF CON when their cash only registration desk opens at the Rio on August 5.
Paid in full Onsite Black Hat Briefings registrations can register for DEF CON badges.
...more info »
---
EVENT AUDIO & VIDEO
The Source of Knowledge will be onsite to sell audio and video recordings of the Briefings sessions. Their booth will be located outside of the Sponsor Exhibit Hall (Palace Ballroom) on the fourth floor. You can purchase the media onsite at a substantial discount.
---
One hundred executives from Global 2000 corporations and federal agencies are invited to attend a full day of high-level discussions about topics unique to Black Hat...more info »
---
Hacker Court
// August 3 - 18:00-19:30
Go behind the scenes with the Hacker Court team to discover what goes into preparing for a computer crime trial. .. ...more info »
---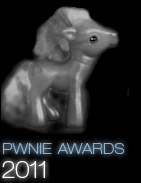 pwnie awards
// August 3, 18:15-19:30
In 2011 the Black Hat USA Briefings are once again providing the venue for the Pwnie Awards, the security industry's premier award show celebrating the achievements and failures of the security community over the past year.
For more information about the awards or to submit a nomination, please visit the official Pwnie Awards website at http://pwnies.com
---
Virtual Training
// June 13-16
Make the most of your time! This course is an introduction to the art and science of computer hacking. If you take this course online, you will be prepared to take a more advanced Hacking by Numbers course at Black Hat USA 2011...more info »